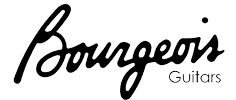 Bourgeois Guitars
Dana Bourgeois is known around the world for his superb craftsmanship and also as one of the foremost authorities on the voicing, selection and utilization of fine acoustic tonewoods.
He selects and matches the woods for each guitar at the beginning of the production process and, once each guitar is complete, checks it from top to bottom insuring it is aesthetically perfect and sounds and plays up to the demanding Bourgeois standard. Throughout the production process you can find Dana applying bridges, spraying a sunburst top, buffing the final finish coat, selecting and applying pick guards as well as overseeing the eight other individuals working on the various facets of the guitars being built.
Dana's career began when he built his first guitar in his dorm room at his alma mater, Bowdoin College in Maine. From there, using the knowledge he gained primarily from the repair of guitars, he launched into lutherie on a full-time basis in 1978.
His experience with a more extensive production came after he received a request from Eric Schoenberg to build an OM cutaway in the traditional design. This initiated a decade long partnership with Schoenberg and the engagement of Martin Guitars in the final assembly of instruments designed by Dana and with tops he individually voiced. Over 300 guitars were built in this fashion bearing the Schoenberg label and carrying the signature of Dana's design and sound. Dana was then retained by Paul Reed Smith Guitars in 1990 to spearhead acoustic development for the PRS organization, and later by Gibson Guitars to assist in construction and setup of their new production facility in Montana. With this experience and knowledge Dana went on to establish his own small-shop production company, Bourgeois Guitars in 1995. In 2000, he co-founded Pantheon Guitars and currently oversees and participates in the design and annual construction of about 400 guitars bearing his name.
Click here to View Videos from Bourgeois Guitars
Available Models
00 Vintage Varnish CB

00 sized guitar
Adirondack Spruce Top
Mahogany Back & Sides
Ebony binding, Hot Hide Glue, Varnish finish


USD$6 295 (new one on order)
email for information

00 Vintage

00 sized guitar
Indian Rosewood Back & Sides
Adirondack Spruce Top
USD$4 295 (Sold)
email for information


Country Boy Deluxe

Dreadnought
Figured Mahogany Back & Sides
Select Adirondack Spruce Top
USD$4 695
email for information

Country Boy Deluxe (Sunburst)

Dreadnought
Figured Mahogany Back & Sides
Select Adirondack Spruce Top
Hand Applied Sunburst
USD$5 350
email for information


Slope Shoulder D Banjo Killer

View Images
Slope Shoulder Dreadnought (J-45)
Figured Mahogany Back & Sides
Bearclaw Sitka Spruce Top
USD$4 390 (sold)
email for information


DB Signature Model

View Images
Dreadnought
Mad. Rosewood Back & Sides
Select Adirondack Spruce Top
Pearl Rosette
Maple bindings
USD$6 095 (sold)
email for information



OMJ Vintage

OM Jumbo (Slightly larger OM)
Indian Rosewood Back & Sides
Adirondack Spruce Top
USD$4 295 (sold)
email for information